Portfolio Managers Comment - March 2021 – Fixed Income – MAC AM CREDIT SELECT UCITS
Our Fixed Income management based on the primary market generated a performance of 0.62% in March, bringing the overall performance of the fund to 0.93% since inception inception on January 04th, 2021).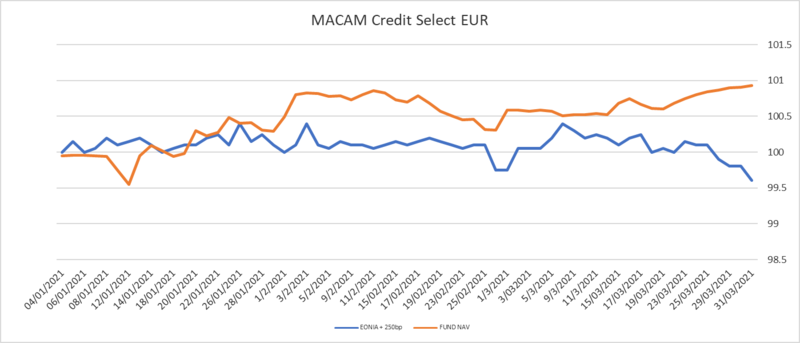 The first quarter of 2021 has been extremely eventful; inauguration of Joe Biden, inflationary fears in the United States, strengthening of restrictive measures, drastic increase in COVID-19 cases in emerging countries.
At the start of 2021, the US 10-year yield jumped suddenly from 0.917 on January 4 to just over 1.74 on March 31. This sudden rise in yield is explained by inflationary fears in the United States resulting from an estimate of the stronger-than-expected American economic recovery following the adoption of Joe Biden's plan (1.9 tn USD).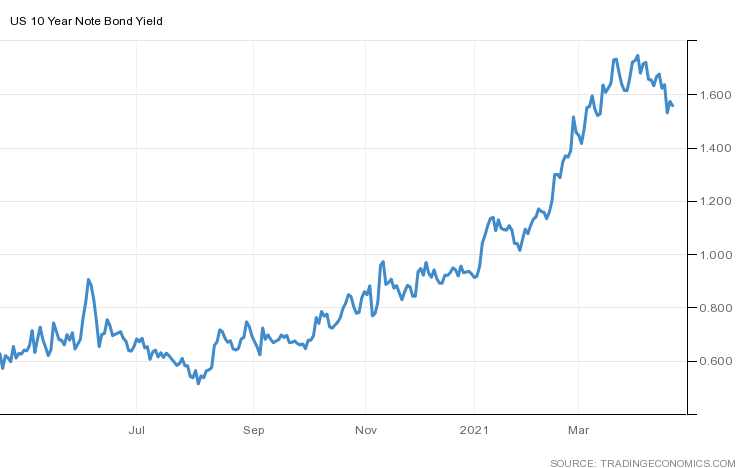 This rates hike resulted in a massive sale of US Treasuries, which had a major impact on the value of bonds on a global scale.
The sharp rise in US 10-year bond yields also affected the global market. Sovereign bonds posted an overall drop in yield of 6.22%. The Japanese market was the least affected -0.66%.
The Investment Grade segment suffered greatly due to its maximum sensitivity. The High Yield segment performed better, but securities selection had to be cautious.
The global vaccination campaigns have gone well despite some turmoil, especially within the European Union due to wide differences on the policy to be adopted and the delays in Astra Zeneca deliveries as well as the potential side effects.
The governments of France, United Kingdom and Germany in particular did not hesitate to increase restrictive measures during the first quarter of 2021, which weighed on the long-awaited recovery prospects.
In emerging countries, particularly in India and Brazil, the increase in the number of cases has also weighed on hopes of a rapid recovery in early 2021.
The dollar was able to regain some strength by appreciating against the euro in the first quarter of 2021, reaching 1.17275 per euro on March 31st 2021, compared to its peak at 1.2239 on December 31st 2020.
It is in this universe of troubled rates and a gloomy global health situation that we have had to develop our management style. The choice of flexible, dynamic and selective management mainly oriented on the primary market has paid off. In fact, despite everything, we offered our clients a positive performance of 0.93% in Q1 2021 for a low volatility of 1.79%. This performance is explained by the reduction in the duration of our portfolio and a rigorous selection of issuers. In mid-March when the market seemed to have become accustomed to the new universe of rates a form of stability developed, which allowed us to increase our exposure. The EUR-USD currency effect also worked in our favor.
Benefit from this strategy
To benefit from this strategy in your investments, you can freely subscribe to our UCITS1 Fund started on January 04, 2021.
A UCITS Fund like ours offers a strict regulatory framework in terms of transparency as well as protection of capital and clients. The strategy analyzes the economic environment as a whole, identifies and adjudicates market opportunities on primary and secondary market with the aim of generating absolute performance uncorrelated from the markets.
EUR Share Class : LU2095273590
USD Share Class : LU2131342482
For more information, do not hesitate to visit the dedicated page or to contact us directly.
P: +44 (0)20 3750 9971
M: info@mac-am.co.uk
Investment vehicle regulated for the purpose of investor protection, liquidity and transparency.
Image : https://unsplash.com/photos/MLLBlDL5bDw - Jurica Koletić