Portfolio Managers Comment - May 2021 – Fixed Income – MAC AM CREDIT SELECT UCITS
Our Fixed Income management based on the primary market generated a performance of 0.29% in May, bringing the overall performance of the fund to 1.90 % since inception inception on January 04th, 2021).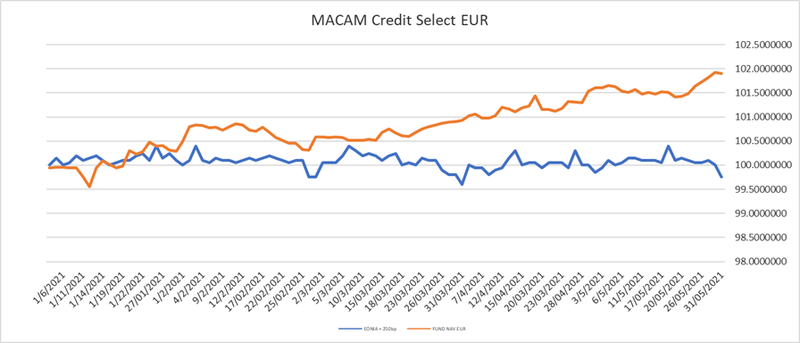 Although still agitated, sovereign rates approached a semblance of stability in the second half of May, making it possible to better arbitrate portfolio positions and better anticipate market reactions to new bond issues. As of May 31, the US 10-year rose to 1.59 and the German 10-year to -0.187.
Several (non-voting) Fed members have pointed to recent US economic figures to discuss an adjustment to the restraining measures, including a tapering of asset purchases. Indeed, the growth of US GDP in the first quarter was confirmed at 6.4% (annualized), the US CPI rose to 0.8% in April, well above analysts' expectations and to 4.2% over twelve months reaching its highest level in 13 years.
If inflation remains temporary according to the Fed and Janet Yellen, Joe Biden's plan, which is becoming more and more precise, should peak at 6tn USD (cumulative with plans already in progress), which continues to be a concern among investors. To finance this plan, a tax hike seems almost already acted and Treasury issues should be going well. Along with these plans, the shortage of components, rising raw materials and an insufficient workforce continue to put strains on the US and global economy.
With vaccination advancing at a fairly sustained rate in Europe and the United States as well as the lifting of numerous restrictions in many European countries and states of the United States, the economy seems to finally take a breath of fresh air and confirm the path of recovery. Nevertheless, the tensions in emerging countries linked to the increase in cases and the lack of resources continue to maintain certain doubts.
As part of this recovery, the OECD has raised its growth forecast in Europe for 2021 from 3.8% to 4.3%.
The dollar depreciated slightly against the euro in early May before stabilizing in the second half. The dollar stood at 1.22295 against the euro on May 31.
Thanks to our extremely selective approach in the composition of the portfolio during the previous months, as well as our regular breakdown to maintain a portfolio adapted to the changing market conditions, we were able to provide a positive performance of 0.29% during the month of May. Volatility edged down to 1.67%.
Benefit from this strategy
To benefit from this strategy in your investments, you can freely subscribe to our UCITS1 Fund started on January 04, 2021.
A UCITS Fund like ours offers a strict regulatory framework in terms of transparency as well as protection of capital and clients. The strategy analyzes the economic environment as a whole, identifies and adjudicates market opportunities on primary and secondary market with the aim of generating absolute performance uncorrelated from the markets.
EUR Share Class : LU2095273590
USD Share Class : LU2131342482
For more information, do not hesitate to visit the dedicated page or to contact us directly.
P: +44 (0)20 3750 9971
M: info@mac-am.co.uk
Investment vehicle regulated for the purpose of investor protection, liquidity and transparency.
Image : https://unsplash.com/photos/7ojyp-IXW7w - alevision.co